Planetarium Tech - Beyond the Infinite
Wired Science 3: The Morrison Planetarium's digital projection system takes viewers on a trippy ride through space. Wired.com goes into the bowels of The California Science Academy to see how it works



Super High Vision Single Display from JVC
JVC developed a 1.75" 8K4K D-ILA (Direct-Drive Image Light Amplifier) which can display an image of approximately 35Mpix (8192x4320).
If we have yet to see this resolution on upcoming video projectors, I'll bet such a resolution will soon be a reality... We just hope that something like the Red Video camera will also soon be accessible to us all!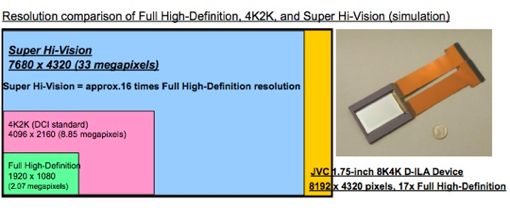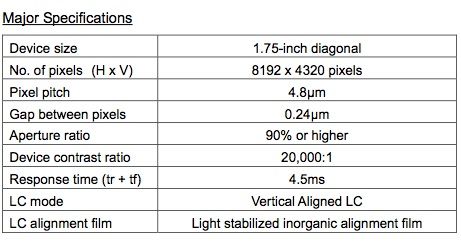 Victor Company of Japan, Ltd. (JVC) announces a new addition to its lineup of proprietary D-ILA (Direct-Drive Image Light Amplifier) high-definition reflective liquid crystal devices for projectors. The newly developed 1.75-inch 8K4K D-ILA device has the world's largest number of pixels and is able to display images of approximately 35 megapixels (8192 x 4320 pixels), the equivalent of more than 17 times the level of Full High-Definition. This means that a single display device can now produce Super Hi-Vision images and can display images with the highest number of pixels currently defined under international standards.

After JVC developed the initial 7.86-megapixel (3840 x 2048 pixels) 4K2K D-ILA device in the summer of 2003, it subsequently further evolved the technology for highly realistic, high-definition images through a range of test viewings and verification testing, resulting in the development of JVC's first commercial 4K2K D-ILA device (1.7-inch device size, 5,000:1 device contrast ratio) and the 4K2K D-ILA projector incorporating that device in September 2004.

In June 2007 JVC developed a 1.27-inch 4K2K D-ILA device that was the world's smallest device of its kind, having a 6.8µm pixel pitch and 4096 x 2400 pixels, and in February 2008 it began marketing a newly commercialized professional D-ILA projector, DLA-SH4K, incorporating that device.

Through the development of a new production process and new pixel structure for even finer pixels, JVC has now succeeded in developing the 1.75-inch 8K4K D-ILA device, the world's first device to achieve real Super Hi-Vision definition level. The new device has approximately 50% higher density in its ratio of area per pixel as compared to the 1.27-inch 4K2K D-ILA device, which was originally the world's smallest 4K device. Furthermore, the new device has achieved a video display of approximately 35 megapixels, the world's highest pixel counts, while continuing to provide the D-ILA series' characteristics such as "high-quality images without a distracting pixel structure", "high light availability", and "high contrast ratio".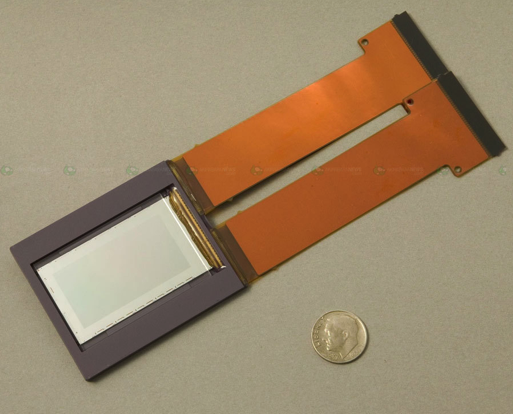 2. Workshop in Immersive Cinema
Nicolas J. Artley from Cingo Studios, working for the ZEISS Planetarium Münster of the Westphalian States Museum, will again participate at the 2th European conference about Immersive Cinema from September 11th - 15th, 2006 held by Negeva Fundation at Centro Multimeios in Espinho, Portugal.
International speakers this year will be Dr. Carter Emmart (American Museum of National History), Dr. Gill Russel (CosmicSky), Benjamin Crabut (RSA Cosmos), Lars Lindberg Christensen (ESA), Luis Calcada (ESO), Michael Daut (Evans & Sutherland), David McConville (Elumenati Inc.), Tom Kwasnitschka (AllSky.de), Staffan Klashed (SCISS) and Martin Howe (SEOS).
More information at
http://fulldome.multimeios.pt
Cinema has always been a unique way to present audiences with memorable and unparalleled experiences. Its popularity is unquestionable and it seems to be, among all the art forms, the most consensual and the one able to captivate a public of all tastes, ages and backgrounds The advance in technology has naturally pushed cinema to the digital era. The quality of the images and the tools available to capture and project them are increasing. Going to the movies is more and more a unique experience, the images are becoming more and more clear and realistic, and the digital effects give the spectator strong sensations and create in the audiences the desire for other kind of film formats.

Digital cinema opened new horizons in film production: new techniques, new audiences, new languages make films more and more all embracing, easier to produce and more accessible. One of the areas that will necessarily benefit from this revolution is education, cultural diffusion and entertainment. As an example we can point the use of immersive cinema in cultural centres, museums, theme parks and other education and entertainment equipments, working as a new means of promoting and transmitting knowledge. Its versatility and the almost infinite range of possibilities of use, as well as the relative easiness in producing contents when compared with more traditional formats, makes immersive cinema very attractive. Its production is growing and it promises to change the way of making movies