Planetarium Tech - Beyond the Infinite
Wired Science 3: The Morrison Planetarium's digital projection system takes viewers on a trippy ride through space. Wired.com goes into the bowels of The California Science Academy to see how it works



Super High Vision Single Display from JVC
JVC developed a 1.75" 8K4K D-ILA (Direct-Drive Image Light Amplifier) which can display an image of approximately 35Mpix (8192x4320).
If we have yet to see this resolution on upcoming video projectors, I'll bet such a resolution will soon be a reality... We just hope that something like the Red Video camera will also soon be accessible to us all!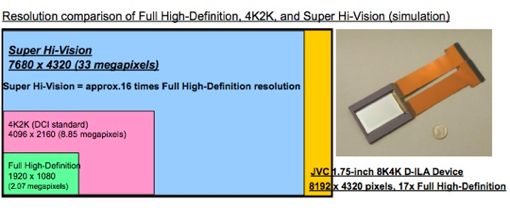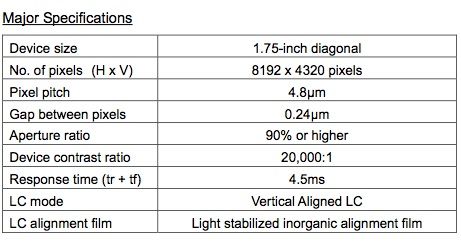 Victor Company of Japan, Ltd. (JVC) announces a new addition to its lineup of proprietary D-ILA (Direct-Drive Image Light Amplifier) high-definition reflective liquid crystal devices for projectors. The newly developed 1.75-inch 8K4K D-ILA device has the world's largest number of pixels and is able to display images of approximately 35 megapixels (8192 x 4320 pixels), the equivalent of more than 17 times the level of Full High-Definition. This means that a single display device can now produce Super Hi-Vision images and can display images with the highest number of pixels currently defined under international standards.

After JVC developed the initial 7.86-megapixel (3840 x 2048 pixels) 4K2K D-ILA device in the summer of 2003, it subsequently further evolved the technology for highly realistic, high-definition images through a range of test viewings and verification testing, resulting in the development of JVC's first commercial 4K2K D-ILA device (1.7-inch device size, 5,000:1 device contrast ratio) and the 4K2K D-ILA projector incorporating that device in September 2004.

In June 2007 JVC developed a 1.27-inch 4K2K D-ILA device that was the world's smallest device of its kind, having a 6.8µm pixel pitch and 4096 x 2400 pixels, and in February 2008 it began marketing a newly commercialized professional D-ILA projector, DLA-SH4K, incorporating that device.

Through the development of a new production process and new pixel structure for even finer pixels, JVC has now succeeded in developing the 1.75-inch 8K4K D-ILA device, the world's first device to achieve real Super Hi-Vision definition level. The new device has approximately 50% higher density in its ratio of area per pixel as compared to the 1.27-inch 4K2K D-ILA device, which was originally the world's smallest 4K device. Furthermore, the new device has achieved a video display of approximately 35 megapixels, the world's highest pixel counts, while continuing to provide the D-ILA series' characteristics such as "high-quality images without a distracting pixel structure", "high light availability", and "high contrast ratio".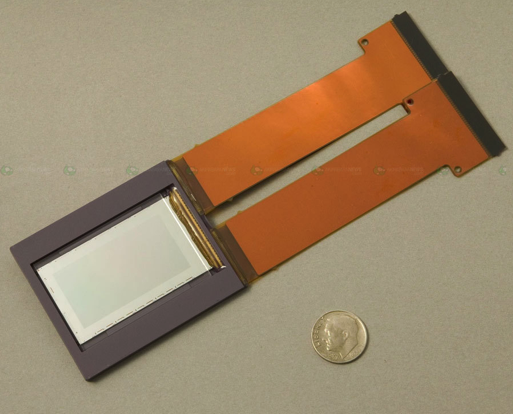 Pixar movies will be released in 3D
The Walt Disney Co. said Tuesday its Pixar animation studio is committing to 3-D and will release all of its movies in the format beginning with "Up" next year.
Chief Creative Officer John Lasseter made the announcement in New York at a presentation of Disney's upcoming lineup of animated movies through 2012. He said Walt Disney Animation Studios will offer "The Princess and the Frog," a musical set in New Orleans, in the traditional hand-drawn format for release for Christmas 2009.
Meanwhile, Pixar movies will be released in 3-D and the traditional two-dimensional format, beginning in May 2009 with "Up," about an elderly widower who embarks on a South American adventure. Lasseter said he has been inspired by three-dimensional photography for decades. "I love 3-D. I made a 3-D computer-animated short in 1989 called 'Nickname,' and in fact my wedding pictures with my beautiful wife Nancy were made in 3-D," he said.
The lineup from Walt Disney Animation Studios also includes the November release of "Bolt," the story of an actor dog who believes he has super powers; "Rapunzel," a retelling of the fairy tale set for release for Christmas 2010; and the modern-day fantasy "King of the Elves," set for release for Christmas 2012. Those films will be released in both 3-D and two-dimensional formats.
Pixar's upcoming releases include "Toy Story 3" in June 2010; "newt," a love story involving the last two blue-footed newts alive, set for the summer 2011; the Scottish fantasy "The Bear and the Bow" for Christmas 2011; and "Cars 2" in the summer of 2012. Pixar also plans to rerelease the original "Toy Story" and "Toy Story 2" in the 3-D format.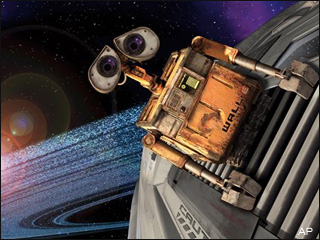 During its lengthy presentation, Disney also showed a 30-minute clip of "Wall-E," set for release June 27. It tells a love story between the title character, a robot left alone on Earth for 700 years, and another robot named Eve sent to look for life. "The population had to abandon Earth for a while, and they left little Wall-E there to clean it up," said Richard Cook, chairman of The Walt Disney Studios. The only clue creators gave for the upcoming "Toy Story 3" tale was that Andy, the boy who owned the toys, has grown up and is about to head off to college.
"Wall-E" is the first Pixar release since last summer's "Ratatouille," which grossed more than $620 million at the worldwide box office. "Ratatouille" was the last publicly disclosed Pixar picture in development before Disney's acquisition of Pixar Animation Studios in May 2006 for $7.5 billion in stock. The acquisition put Lasseter as the creative head at both Disney and Pixar studios and revamped the way Disney made animated films. Lasseter was the director of the first two "Toy Story" hits and a former Disney animator. In "Up," 78-year-old Carl Fredricksen (voiced by Ed Asner) puts balloons on his house to fly to South America to fulfill a promise to his late wife to live in paradise. "We start with unusual premises," said Ed Catmull, Pixar co-founder and president of Pixar and Disney's animated studios. "We go down a path where we're initially always a little scared because we're doing something brand new. It's challenging, but out of that challenge comes the new and the interesting."
Disney's commitment to 3-D also reflects a move away from Disney's traditional strength in hand-drawn films, but Catmull said some 600 hand animators remained at the studios. Disney also planned to release four computer-animated "Tinker Bell" movies straight to DVD and Blu-ray discs every year starting in October.
In a deal announced last month, four studios - Disney, News Corp.'s 20th Century Fox, Viacom Inc.'s Paramount, and Universal Pictures, which is owned by General Electric Co.'s NBC Universal - agreed to help finance and equip 10,000 screens in the U.S. and Canada to accommodate 3-D movies. The conversion will cost as much as $700 million and take three years. Box office figures have shown that the enveloping feel of 3-D can attract two to three times more moviegoers who are willing to pay as much as $3 more per ticket, analysts said. Theater owners and studios hope the offerings will help bring people back to multiplexes for an experience that cannot be matched by increasingly sophisticated home theater systems.